Latest Tech
Mobiles
Apple is working on the Foldable iPhone, patented; Phone will turn on both sides
Apple's name has also been added to the list of companies working on the foldable smartphone. In fact, Apple has also patented the Foldable iPhone for the United States Patent and Trademark Office (USPTO), which was published on February 14. According to the Senate report, Apple first introduced this patent in 2011, which was later updated in 2016 and it has been updated once again. According to the report, Apple's foldable iPhone can be named 'wraparound iPhone'.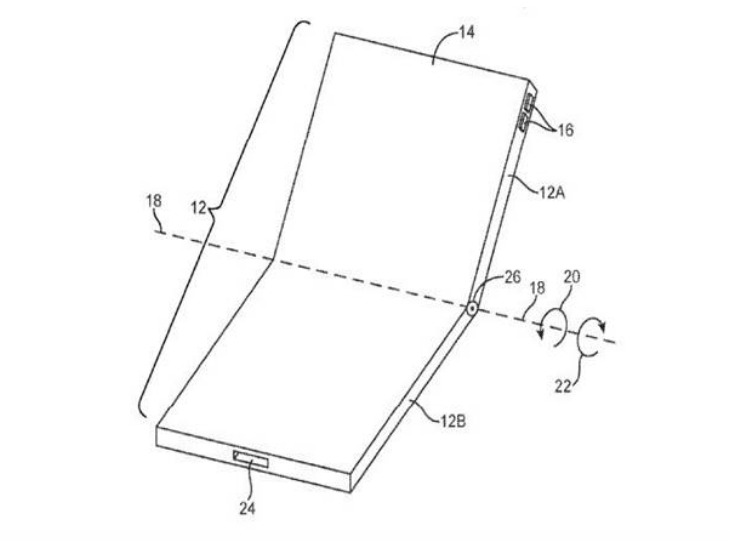 There will be hinges in it so easy to fold
According to media reports, Apple's Foldable iPhone will have an OLED display and the company can use Hing for its flexibility, so that it can be easily folded. It is also being said that Apple's foldable iPhone can be folded both inside and outside.
According to the sketch of Apple's filed patent, an edge-to-edge display has been made in the phone, and the home button is not even visible in it. Apart from this, the phone does not even have the rear buttons, which is believed to be available in the virtual button. Also, this phone will not even have a headphone jack.
May launch in 2020
According to the Tech Report, Apple can launch this foldable iPhone by 2020. However, no official information has been given on behalf of the company. In many reports it has also been said that due to filing a patent, it should be assumed that Apple is working on the foldable iPhone, that is not correct. Because Apple frequently files a patent for new technology, but it really does not work. However, it is also believed that if Apple's Foldable iPhone comes, then the company can also provide foldable display in the MacBook and iPad.
Samsung and Xiaomi will bring many companies including the Foldable Phone
Samsung is preparing to launch its first mobile phone and it can also be launched on February 20, 'Galaxy Unpacked'. Besides Samsung, Xiaomi is also working on two-way phone. Xiaomi recently released a video in which the prototype of this phone was shown. Apart from these, companies like Oppo, Vivo, LG, Motorola, Huawei are also working on the foldable smartphone.
Launches World's First Foldable Phone
It was expected that Samsung will launch the world's first firmable smartphone, but before that in November last year, US start-up company Royel launched the world's first phone phone 'Flexpeap'. This phone has a 7.8-inch display, which can be folded and a 4-inch phone can be made. This phone has a 7nm Snapdragon 8150 processor with 8 GB of RAM and 16 + 20 megapixel camera. The price of its initial variant is 95,400 rupees.
[amazon_link asins='B072LPF91D,B072LNNSQN,B07DJD1Y3Q,B0711T2L8K,B07DJHY82F,B07J318ZL8′ template='ProductCarousel' store='sevensenseads-21′ marketplace='IN' link_id='f87199fa-e33f-4447-82bd-e16f4c3ede9f']